Regional Dew was the unofficial name given to a promotion that involved Mountain Dew fans creating potential names and labels that would all be used for the same flavor, varying by location.
Pre-Launch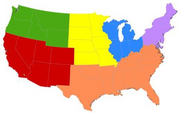 In August 2012, Mountain Dew Johnson City Gold, a new malt and lemon-lime flavor was introduced for testing in select U.S. cities. On August 9, YourMaltDew.com was launched, allowing fans to participate in the promotion itself through various steps that were unlocked after a certain amount of time passes.
Step One: Submit A Name
8/9/12 - 8/16/12
In the first step of the promotion, fans were to visit the website, chose one of the six regions, and enter their name participant. Fans were not limited to a certain region and could enter names for each region. Results will be displayed on 09/13/12.
Step Two: Vote For Names
09/13/12 - 09/17/12
When this step began, a list of up to 8 names per region were posted to the website for a voting period. Fans could vote once per day, per region, and three names per region remained at the end of this voting period. Results were be displayed on 09/18/12.
Step Three: Design Your Dew
9/19/12 - 10/10/12
To participate in this step, one must first select one of the three name finalists (from Step Two) for the region they are designing for. Once they have selected one name finalist for a specific region, they can then use the website's digital studio or download a template to design labels based on the name and region. By the end of this step, each region will have three separate design finalists, and they will be displayed on 11/09/12.
Step Four: Inspire The Launch
10/11/12 - 11/08/12
In this step, participants are encouraged to share photos they've taken, inspired by your part of the country, for a chance to see them influence the marketing materials for their design. Results will be displayed on 11/09/12.
Step Five: Vote For Designs
11/09/12 - 11/15/12
During this step, fans will be able to view all design finalists (three per region) and vote for one per region. The creators of each winning design will work with Mountain Dew's internal packaging department to finalize their label. Results will be displayed on 1/16/13.
Step Six: Meet The Winners
1/16/13 - 05/20/13
During the final step, the website will allow fans to learn about the winners of the Regional Malt DEW contest, and the inspiration that led them to come up with the winning ideas. The Malt flavor will eventually return to shelves for an unknown amount of time, using the finalized winning packaging designs from their respective regions.