The Mountain Dew Wiki is dedicated to being the most-detailed and up-to-date resource on the Mountain Dew soda brand! With detailed articles on every single Mountain Dew flavor, promotion, packaging, and so much more! So sit back, have a sip of your favorite DEW, and read up on one of the best soda brands out there!
Trending articles
Popular categories
View full main page
Featured Flavor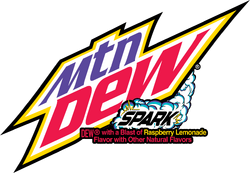 Spark
Our featured flavor is Mountain Dew Spark! Since this delicious Raspberry Lemonade DEW flavor is beginning to appear in stores recently as a permanent flavor, we chose this flavor to be the newest featured flavor of Early 2022!
Read more here!
Contribute To This Wiki
Check out the community portal to see what the community is working on, to give feedback or just to say hi.
Disclaimer
This is a fan-driven, unofficial wiki, and is not officially affiliated with PepsiCo. All official Mountain Dew names, titles, logos, images, and designs are owned and registered by PepsiCo, Inc.