News
January 4, 2017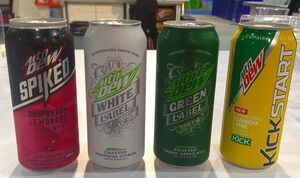 • At a recent NACS show, PepsiCo debuted 4 new unreleased flavors: Spiked, White Label, Green Label, and Kickstart (Mango Lime). Each of these 4 flavor variants seem to be related to a separate flavor line, with White Label and Green label continuing the "Label" brand started by Black Label in 2015, the Mango Lime Kickstart obviously continuing the Kickstart line, and Spiked being the first of a new flavor line entirely. We will update with more details as they become available.
• Following the DEWcision 2016 promotion, the winning flavor Pitch Black has been added to the permanent lineup of U.S. Mountain Dew flavors. It's release to stores has already begun, and distribution may be delayed in some areas. The losing flavor, Baja Blast, will still be available at Taco Bell restaurants.

News topics may be submitted to the admin's message page.
Trainmaster718, admin of the Mountain Dew Wiki was here! (talk page) 16:58, January 4, 2017 (UTC)
Featured Article



Mountain Dew Logo Gallery
Check out our timeline of the many logos used by the Mountain Dew brand over the years!
Poll
Baja Blast is coming back. Are you excited?
Featured Flavor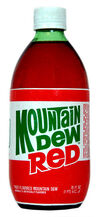 Mountain Dew Red
Mountain Dew Red was the first flavor variant on the Mountain Dew line. This fruit-flavored DEW was released exclusively in test regions in 1988.
Read more here!
Contribute To This Wiki
Check out the community portal to see what the community is working on, to give feedback or just to say hi.
Disclaimer
This is a fan-driven Wiki, and is in no way an officially maintained website. All official Mountain Dew names, titles, logos, images, and designs, are owned and registered by PepsiCo, Inc.