Pour some info into this article!
This article is need of Cleanup. You can help out Mountain Dew Wiki by re-organizing parts of the article, checking grammar and spelling, and doing other helpful things to correct the article.
Honor the Code was a promotion of Mountain Dew that lasted from September-December 2010 and promoted the game Halo Reach. People could win prizes after they entered the codes into the official site. Each flavor promoted a different character in the game.
Products-Characters
The flavors were listed in order of introduction to the Mountain Dew product line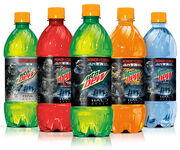 Trivia
Mountain Dew White Out's Noble 6 Halo Reach edition was not available in stores and was the top-secret in the box that was won by many Dew fans. It can be distinguished from the other 5 flavors by the color of its cap (the others are orange, while White Out has a white cap).
Game Fuel (Citrus Cherry) did not return during the Honor the Code promotion and therefore the promotion was not part of the Game Fuel Promotion.