Pour some info into this article!
This article is need of Cleanup. You can help out Mountain Dew Wiki by re-organizing parts of the article, checking grammar and spelling, and doing other helpful things to correct the article.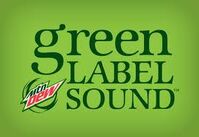 Launched in 2008, this promotion allowed fans to download exclusive singles with the intent of providing a broader exposure to emerging recording artists. Bands that were involved include Matt & Kim and the Cool Kids. Also, in December 2010, the new design for Mountain Dew Code Red was announced in a commercial that featured rapper Jay Electronica performing his song titled "The Announcement" and concluded with the tagline "Hip Hop is different on the mountain", representing continued incorporation of Hip Hop (along with other music genres) into Mountain Dew promotional campaigns.