Not to be confused with Green Label, a Mountain Dew flavor.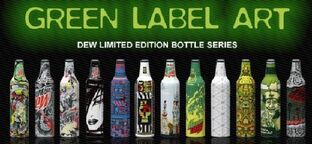 Green Label Art
is a promotion which involves individual artists submitting their own
Mountain Dew
bottle and can designs to be chosen by popular vote for actual production and distribution.
The Mountain Dew brand has been featuring limited edition works of art on its bottles and cans since 2007 and as of 2011 this campaign has remained active; however the Green Label concept has since branched out into four specific categories:
art
,
sound
(music),
sports
and
gaming
.
History
Starting in 2007, Mountain Dew put a small line of limited edition aluminum bottles into limited-release production, featuring artwork from a range of tattoo artists and other artists. This initial series marked the first use of the term Green Label Art to describe the use of artistic works on Mountain Dew product packaging. In June 2010, a contest entitled "Green Label Art: Shop Series" was announced, involving 35 independent skateboard retail store owners who partnered with artists local to their areas in order to design and submit future can artwork designs. Approximately one million votes were submitted by the conclusion of this contest in October of the same year, with Street Science Skate Shop – a store in Tracy, California - being named the winner of a cash prize. This winning can design began appearing on 24 oz. Mountain Dew cans in early 2012.