Pour some info into this article!
This article is need of Cleanup. You can help out Mountain Dew Wiki by re-organizing parts of the article, checking grammar and spelling, and doing other helpful things to correct the article.

The Dew XP promotion (also known as Double XP or Rank Up XP) was a promotion in which video gamers could receive bonus in-game experience points by entering codes found on specially-marked Mountain Dew and Doritos packaging.
2011: Call of Duty Promotion
After the success of Game Fuel in 2007 and in 2009, much speculation arose as to whether or not Mountain Dew would continue their tradition of promoting video games every 2 years - especially after a Pepsi employee posted an eBay auction for two upcoming Game Fuel flavors.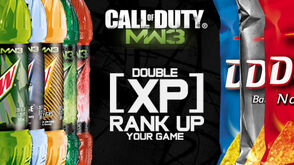 Mountain Dew confirmed these rumors on August 24, 2011, via their Official Facebook page, stating that Game Fuel would return in October to "celebrate the launch of Call of Duty: Modern Warfare 3." The original Citrus Cherry Game Fuel flavor and its new Tropical-flavored counterpart began appearing in stores in mid-October. Both the Game Fuel flavors, standard Mountain Dew flavors (excluding Throwback), and Doritos products took on temporary packaging changes featuring Call of Duty-themed logos and character art. Codes were printed on the bottlecaps, allowing players to enter them on the Dew XP website, which was synced to their online gaming accounts and granted them double experience points in Call of Duty: Modern Warfare 3. By entering codes, players also gained access to enter for exclusive prizes.
2012: Halo 4 Promotion
In late August 2012, rumors began circulating again about another possible Game Fuel return, originating from a YouTube video uploaded by a Pepsi employee showing a Game Fuel bottle with Halo 4-themed packaging and the Dew XP logo.
On October 1, 2012, the Official Mountain Dew Facebook page confirmed once again that Game Fuel would return that month to promote the upcoming Xbox 360 game, Halo 4. It was also confirmed that Mountain Dew and Doritos packaging would once again feature artwork and logos for the game, as well as codes that could be redeemed online for in-game experience when Halo 4 launches on November 6th. The Dew XP website was re-launched on October 15, allowing users to sync their online gaming accounts so that the codes could be redeemed for in-game experience, and allowing them to enter to win exclusive prizes.
20 Oz. Bottle Gallery (Worth 3 Double XP Matches)