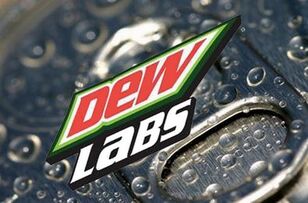 DEW Labs
™ is a private online community of more than 900 of the most passionate
Mountain Dew
drinkers, fans, and advocates.
History
Launched on July 15, 2009, DEW Labs got its start to coincide with the Second DEWmocracy Promotion. Invitations sent online and through e-mail were used to find DEW fanatics to become members. These members then received samples of the three flavor finalists from DEWmocracy II and then split into "Flavor Nations" that corresponded with their favorite flavor. From there, members were very involved with the creation and campaigning periods of the promotion.
DEW Labs was a fairly active community, with occasional exclusive activities for members to participate in.
The website was taken offline in May 2014 with no warning.
Purposes
The many areas of the DEW Labs website correspond to actions that members can take:
Discussions - Members can engage in mass discussions on a variety of topics
Activities - On occasion, an activity will be posted for members to take part in, such as polls
Albums - Collections of member-uploaded photos and videos
Ideas - Perhaps the most active area, this is where members can post their own ideas for DEW flavors, promotions, and generally make suggestions on the future of the brand
Becoming a Member
At the moment, there is no way to simply join DEW Labs, as it is an exclusive community. However, invitations can be sent by moderators, and the Official Mountain Dew Facebook page will occasionally post recruit links, which will only allow a certain number of new members to join before it is closed again. You must be 18 or older to join.
Community content is available under
CC-BY-SA
unless otherwise noted.