DewGothamCity was the unofficial name for the Partnership between Mountain Dew and Warner Bros. Pictures/Legendary Pictures' film, The Dark Knight Rises.
Overview
On June 18, 2012, Mountain Dew officially launched the DewGothamCity website, and with, it the full promotion. During this promotion, existing Mountain Dew products received temporary packaging upgrades to feature The Dark Knight Rises logos and codes that could be redeemed on the website to gain access to exclusive movie content and merchandise.
Included with these packaging upgrades were new 16 oz. cans of the original Mountain Dew that feature the Batman symbol printed with special thermochromic ink, which shifts to a green color when the liquid inside is cooled.
The promotion ended on August 12, 2012.
Dark Berry
Main article: Dark Berry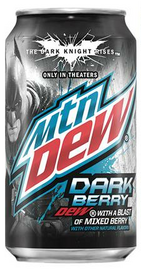 In addition to the above-mentioned parts of this promotion, a new limited-edition flavor named Dark Berry was also released. This mixed-berry drink also features codes and packaging related to the upcoming film.
International promotion
Russian promotion
The promotion was also held in Russia, but Dark Berry was not released there.
Arabian promotion
The promotion was also briefly held in Arabia. As with the Russian promotion, Dark Berry was not released there.