DEWmocracy II is the unofficial name given to the second marketing promotion that involves Mountain Dew fans designing new flavors to be made, one of which will go on to become the next Flavor in the Mountain Dew line.
Launch and Testing
In 2009, the second DEWmocracy campaign began with a tour to 17 cities in America. The people living in these cities were given the chance to taste many new flavors of Mountain Dew, and a select few people were sent kits of the new flavors. At this point in the campaign, none of the flavors had specific designs or even names. They were instead known by flavor number. A subset of fans was able to order the three-pack of unnamed flavors and try all three. They were subsequently encouraged to pick one of the three and join a community around the flavor. Even the colors of the flavors were voted on in the fan groups, although they didn't change radically from the initial unmarked can contents.
Three Finalists
After the tour and sampling were completed, three flavors proceeded to the finals and were given flavor descriptions and colors: Lime Blasted Dew (Deep Green), Punch of Tropical Dew (Cloudy Red), and Smooth Citrus Dew (White). Next, panels were held to decide on names for the three finalists. The names chosen were Distortion, Typhoon, and White Out. The final step was coming up with designs and promotions for the three finalists by reaching out to the Dew fan population's artists.
Store Release and Winner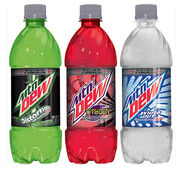 On April 19, 2010, Mountain Dew Distortion, Typhoon, and White Out were released to the public market, and just as in DEWmocracy 1, drinkers were encouraged to go online and vote for their favorite. The statistics changed rapidly over the course of the voting period, and voting closed in mid-June 2010. Immediately after voting ended, White Out was announced to be the winner, and the final statistics were announced: White Out had won 44% of the votes, Typhoon had 40%, and Distortion had 16%. Typhoon and Distortion fans often referred to White Out as 'Sprite Out' due to its similar flavor profile to Sprite.
Legacy
In 2011, Mountain Dew began its FanDEWmonium campaign to decide the next permanent diet flavor (much like DEWmocracy, but on a smaller level). All three flavors from DEWmocracy II were featured in Diet form.
During the summer of 2011, Mountain Dew started its Back by Popular DEWmand promotion and re-released three flavors that its fans have been demanding since they were taken off the shelves. These three flavors were Pitch Black from Halloween of 2004, and the runner-up from each DEWmocracy: Supernova and Typhoon.
In 2019, White Out was discontinued from most regions of the United States, possibly due to low sales.
On October 29, 2021, leaked renders for Typhoon were found, containing a modern design for Typhoon. No other confirmed information is known so far.
Cancelled "Third Dewmocracy"
On June 5th, 2012, Mountain Dew confirmed that there were plans for an upcoming third DEWmocracy promotion in the future on their Twitter page. However, nothing came to fruition of this, meaning the supposed Dewmocracy 3 was highly likely scrapped. It most likely became Dewcision 2016