Pour some info into this article!
This article is need of Cleanup. You can help out Mountain Dew Wiki by re-organizing parts of the article, checking grammar and spelling, and doing other helpful things to correct the article.
Baja or Bust was a summer promotion coinciding with Baja Blast's first ever release in bottles and cans to stores from May and until October of 2014. It allowed people to enter codes under the caps to play a game and win prizes. These prizes included beach balls, shirts, socks, caps, and other merchandise. 
Prize Tier 1 – May 5, 2014 – Must Complete World One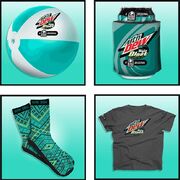 Beach Ball – 48,000 Pts
Slap Koozies – 60,000 Pts
Baja Socks – 85,000 Pts
T-Shirt – 100,000 Pts
Prize Tier 2 – May 19, 2014 – Must Complete World Six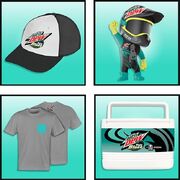 Baja Hat – 150,000 Pts
Bobble Head – 170,000 Pts
Pocket Tee – 210,000 Pts
Baja Cooler – 210,000 Pts
Prize Tier 3 – Jun 30, 2014 – Must Complete World Nine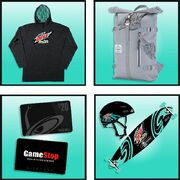 Race Hoodie – 375,000 Pts
Baja Bag – 575,000 Pts
Gift Cards – 830,000 Pts
Longboard – 1,000,000 Pts
Prize Tier 4 – Aug 11, 2014 – Must Complete World Twelve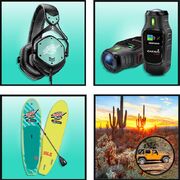 CA Tahoe Road Trip – Ended: 6/11/14
Florida Road Trip – Ended: 7/19/14
CA Desert Flyaway – Ended: 8/26/14
San Diego Flyaway – Ended: 10/3/14