100 Days of Baja was a promotion involving Baja Blast, and its Zero Sugar variation, alongside two new flavors Baja Punch, and Baja Flash. A photo was leaked on the r/mountaindew subreddit confirming that the promotion would begin June 5th, with the flavors releasing soon after.
Promotion Information
During this promotion, codes from participating 20 oz. Baja Blast, Baja Blast Zero Sugar, Baja Punch, and Baja Flash bottle caps were entered for a chance to win prizes and a chance to win the grand prize of $100,000.
Every code entered was an entry to win the grand prize in addition to any of the daily prizes.
Prizes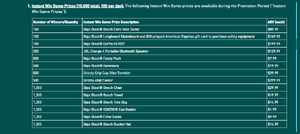 In addition to the grand prize, there are 14 additional prizes that can be won.
Baja Blast Beach Corn Hole Game (100 Winners)
Baja Blast Longboard & $50 prepaid American Express card (100 Winners)
Baja Blast GoPro HERO 7 (100 Winners)
Baja Blast JBL Charge 4 Bluetooth Speaker (200 Winners)
Baja Blast Fanny Pack (500 Winners)
Baja Blast Hammock (500 Winners)
Baja Blast Grizzly Cup 20oz Tumbler (500 Winners)
Baja Blast Grizzly 40qt Cooler (500 Winners)
Baja Blast Beach Chair (1,000 Winners)
Baja Blast Beach Towel (1,300 Winners)
Baja Blast Beach Tote Bag (1,300 Winners)
Baja Blast KOOZIE Can Holder (1,300 Winners)
Baja Blast Crew Socks (1,300 Winners)
Baja Blast Beach Bucket Hat (1,300 Winners)